Privacy Policy
Purpose of this policy
1

The purpose of this privacy policy is to provide information about the personal information collects, how that information will be handled, and how you can access your personal information in accordance with the Privacy Act 1988 and other applicable laws and codes.

2

comply with the Privacy Act 1988, which contains provisions designed to safeguard personal information about you. The Privacy Act 1988 requires us to comply with privacy principles set out in that Act. Personal information is any information that we use to identify a living person. This may include names, addresses, date of birth, gender, phone numbers or employment details.

3

Collection of your information is essential for us to service the relationship and the business operations. Without the Personal Information, we would not be able to provide you with the products and services, enter into contracts or undertake transactions with you.
Acknowledgement
1

You acknowledge that you have read and understood this privacy policy. Please note that this policy does not extend your rights or 's obligations beyond those applicable laws and codes.

2

Should there be any inconsistency between this policy, the Privacy Act 1988 and other laws and codes, this policy shall be interpreted to give effect to and comply with the legislation.
Collection of personal information
may collect information about you, which may include non-public Personal Information:

1

Information that you provide us in the course of using the Services and Products of . We may also collect certain sensitive information from you including your bank account number, credit or debit card number and date of birth;

2

Information that you provide us in the course of your participation in various promotional programs or while you submit a query or feedback;

3

To facilitate our Service or Product, we request certain third party Personal Information from you, such as your Beneficiary or Recipient's full name, mailing address, email address, telephone number, date of birth, nationality etc. We may also collect from you sensitive financial information of a Beneficiary or a Recipient, including bank account numbers;

4

Information that we lawfully obtain from third parties, such as Service Companies, Document verification service providers, electronic database services, and credit reporting agencies;

5

Information that we indirectly obtain from you, such as information about the device, hardware and software you use when accessing the Service, your IP address, the pages you access on our websites. We may combine this automatically collected log information with other information we collect about you. We do this for fraud prevention, to improve our Service and Product, and to improve our marketing, analytics, or website functionality. We may also use "cookies" to track your use of our websites. A cookie is a small file which a website uses to identify you when you come back to the site and to store details about your use of the site. Cookies are not malicious programs that access or damage your computer. We use cookies to improve the experience of people using our website. You are free to decline these cookies if your browser permits, but doing so may interfere with your use of the Service. The information we store in the cookie may include your email address in addition to non-Personal Information.; and

6

Recordings of your communications with our customer service department, including telephone calls,electronic communications and letters.
Information we collect
We may collect the following types of personal information from you:

1

Full Name and Alias

2

Address(both residential and p o box)

3

Date of Birth

4

Gender

5

Occupation

6

Contact details (phone number, fax number, email)

7

Financial Information

8

Credit Card/Debit Card Information

9

Copy of Identification Document
and any other information we may collect with your approval, as permitted or required by law and in compliance with Australian Privacy Laws. If you are an entity then, by applying for anyServices or Products of PFG Smart Credit you agree and consent to the matters following. If you supply us with Personal Information about an individual you agree to inform that person:

10

We are holding information about that person and he or she can contact us at any of our offices.

11

Personal Information collected about that person will be used for the primary purpose of accessing your application for the requested service and if your application is approved, for the initial establishment of the service and then for the subsequent administration and eventual finalization of your service and that without that Personal Information, this purpose cannot be fulfilled.

12

Personal Information collected about that person will usually be disclosed to any of us and to the organizations mentioned below.

13

That person has the right to access and correct Personal Information.
Use of your personal information
Your Personal information is not used for any third party marketing purposes or sold to any other entity. collects, uses, holds and discloses your personal information for the following purposes:/li>

1

To process and complete your money transfer request;

2

To identify you and verify your identity from third parties, such as Service Companies, Document verification service providers, electronic database services, and credit reporting agencies

3

Check your eligibility to use the services and products offered by ;

4

To collect payment for your use of the Service

5

To troubleshoot problems with the service;

6

To process car loan or home loan services from Lacsa Group Pty Ltd and/or to allow our partners to fulfil their promotional obligations to you;

7

To allow our partners to fulfil their promotional obligations to you;

8

To monitor, review and improve the services of ;

9

To monitor compliance and comply with AML CTF Act 2006, and AML CTF Rules; and

10

Prevent money laundering, terrorism financing, fraud and other illegal uses of the service.
might use your personal information to:

11

Train our staff, risk management and record keeping;

12

To send you marketing notices, service updates, promotional offers and inform you about the new services of (you have the option to opt out from receiving these updates anytime you wish);

13

Complete research and market studies;

14

Maintain good relationship with our customers; and

15

Comply with other legal regulations or as permitted by any laws.
Use of Pseudonyms
1

requires its Customers to accurately identify themselves to make avail our services as per the Privacy Act 1988. cannot deal with Customers who have not identified themselves or who have used a pseudonym. However, this does not restrain Customers to make enquiries on our products and services using a pseudonym.
Disclosure of your personal information
may share your personal information with companies only within the Group and its network which includes the affiliated companies and partnering entities that offers services and products for distribution. The personal information that you provide us will be disclosed to a third party only if it is necessary and in compliance with the Privacy Laws.Personal information will be used and disclosed only for the purposes for which it is collected.
You agree that we disclose your Personal Information to any of the following types of organizations or individuals.

1

Providers, contractors and external advisers who we engage to carry out our functions and activities from time to time;

2

's correspondent banks to process the money transfer requests;

3

To any agents or intermediaries who are a part of 's products and services;

4

To Lacsa Group Pty Ltd (ABN 24 111 297 539) (ACL 470128) to process the car loan/home loan referral services;

5

To overseas intermediaries to complete your money transfer request;

6

To any credit reporting bodies to verify your identity;

7

Your executor, administrator, trustee, guardian or attorney;

8

Regulatory bodies, governments agencies and law enforcement bodies; and

9

As may be authorized or required by law to disclose Personal Information.
Overseas use and disclosure
1

may transfer your personal information overseas to complete the services and products requested by you, this will always be subject to Australian data protection and Privacy Laws.
Access and correction of personal information
You have the right to request access to your personal information and request its correction. You can access the personal information we hold about you by putting a written request to our Privacy Officer at the following address.

1

Privacy Officer, ,

2

You can also access your personal information that we hold by visiting our office. Alternatively, you contact us on info@pfgsmartcredit.com.au (indicating Privacy Request at the message line) or at 03 9001 5864. However, all requests for your access to your personal information are to be in writing. Information will be provided to you within 14 days, or within a reasonable timeframe. In some situations we may exercise our right, as allowed by the law, to deny you access to particular information. If we deny you access to your personal information we will explain our reasons for doing so.

3

If you are requesting to access personal documents please include a certified copy of primary photographic identification (such as a Passport or Driver's license) to assist us in processing your request. Access may be withheld or provided subject to Privacy Act 1988.

4

If you are able to establish that any information held by us is not accurate, complete and up to date, we will take reasonable steps to ensure that the information is accurate, complete and up to date provided any refusal made is subject to valid reasons. A copy of primary identification document and address proof may be necessary to correct your personal information. PFG Smart Credit will not charge from you for the making of the request or for giving access to the personal information. However, we might charge a minimal fee if the personal information you request requires research or preparation time.
Security and retention
applies technical, physical, and administrative data security measures to protect your personal information from loss, misuse, unauthorized access, modification, alteration or disclosure. Once our dealing with you is completed, we endeavour to take reasonable steps to delete or permanently erase the personal information if not required further.We take all steps reasonably necessary toensure we keep your information secure, for example by:

1

Encrypting our services via a secure 256-bit SSL encryption and digital archiving;

2

Properly trained staffs on privacy matters and data protection;

3

Maintaining the servers in multiple secure locations tested regularly by external experts. is obliged to comply the requirement AML/CFT Act and the Privacy Laws, information relating to personal identity is retained for a period of 7 years. will destroy, erase, or make anonymous your personal information when it is no longer required as per the Law.
Prevent unauthorized disclosure of personal information by you
1

is committed in protecting the personal information of its Customers. We will never request you to disclose your personal information via unauthorized emails or fax.

2

Ensure you do not share any sensitive information to unauthorized individuals via unsecured emails, calls or fax. Contact us immediately if you have been contacted by an unauthorized person, email, call or fax.

3

We collect and store all information electronically and take all reasonable steps to protect information from unauthorized access, but we cannot accept liability for unauthorized access or use of your personal information.
Loss of personal information
maintains adequate data security measures to protect information against unauthorized access and disclosure, despite our efforts chances breach of security cannot be completely ruled out. In the event of loss of personal information will:

1

Identify and prevent further breaches at the earliest instance possible.

2

Assess the nature and severity of the breach including the type of personal information involved and the risk of harm to affected individuals.

3

Alert the affected individuals if required.

4

Engage appropriate authorities if criminal activity is suspected

5

Notify the Privacy Commissioner (at the OAIC) if the breach is significant
Complaints
If you have a complaint about our handling of personal information we request you to contact us first. We will then follow it with our Internal Dispute Resolution team and respond within 30 days wherever possible. If the matter proves to be complex we may advise you to put the complaint in writing.

1

To lodge a complaint please contact our: Dispute Resolution Officer, , We do our best to resolve the matter in a timely fashion. If we cannot resolve the matter promptly due to its complexity, you will be advised in writing.
Office of the Austalian Information Commmission (OAIC)
1

The Office of the Australian Information Commissioner (OAIC) can investigate privacy complaints from individuals about Australian and private sector organisations covered by the Privacy Act 1988 (Privacy Act). Before you can lodge a complaint with the OAIC, you will generally need to complain directly to the agency or organisation you are complaining about and allow 30 days for it to respond. If you do not receive a response (after 30 days), or you are dissatisfied with the response, you may then complain to the OAIC.

2

You can contact OAIC by visiting www.oaic.gov.au; email to enquiries@oaic.gov.au; calling 1300 363 992, If calling from outside Australia call: + 61 2 9284 9749, or write to OAIC,GPO Box 5218, Sydney, NSW – 2001 Or / OAIC, GPO Box 2999, Canberra, ACT- 2601
Third party sites
1

site may have links to other websites not owned or controlled by us. We are not responsible for these sites or the consequences of you going on to those sites.
Changes
1

Please be aware that we may change this Privacy Policy in the future. The revised versions will be uploaded onto our website, so please check back from time to time.
Contact us
1

If you have any questions or concerns about our privacy practices please contact us by telephone, letter, facsimile or email Phone: Facsimile: 03 9011 6111 Email: In Writing: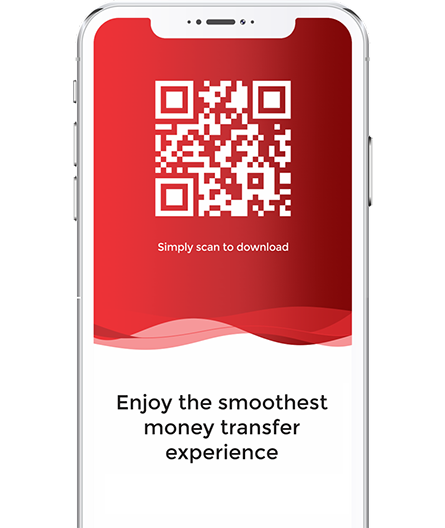 Send money on the go.
International money transfer in just a few clicks
Track the money you send on the go
Benefits from greater biometric security